OUR FAVORITE NYC COMICON BOOTHS AND PRODUCTS!!!
VADERS VAULT – BOOTH 3014
Hot Diggity!  These are some cool Lightsabers! If you're making a Star Wars fan film these are must have!  Or perhaps your a deluded parent who has convinced his child that you are true Jedi Warrior.  You have to stop by the folks at Vaders Vault and find the Sabre that suits your taste and fighting style.
NERDGAZMS – BOOTH SOMEWHERE IN THE 3000s
I don't know about you but an autographed James Bond Framed collection of Connery, Lazenby, Moore, Dalton, Craig and Brosnan…that seems worth $1950!  The stuff I saw on their website was pretty cool too.   Don't know why they're not listed in the program but the booth is in the 3000s somewheres
WICKED AND WONDERFUL – BOOTH ?
These Skulls were really incredible!  and $20?  That's a deal!  We also loved the Alchemy Speculum Wall Mirror at $75…really neat gifts for the Mystic in your family!
POP CULTURE SHOCK COLLECTIBLES – BOOTH 336
http://popcultureshocktoys.com
This Evil Ryu Street Fighter doll had glowing eyes and a glowing chest.  There's no price on him but his line is "pending approval."  Question is, Could he beat Kimbo Slice in his prime?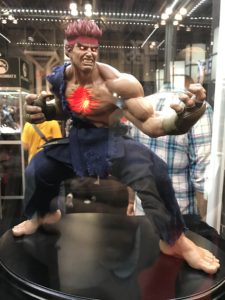 RUTHLESS FX – BOOTH #2771
http://www.ruthlessfx.com
These helmets are completely off the hook!  Boba Fettesque, Terminatorly and stuff that just blows your mind!  They've got boots!  They've got armor!  It is an artistic explosion of wearables that achieve unbounded quality, color and expression.  No idea what they cost, but it must be an arm and a leg,…and maybe a foot and a head!
VOLKS USA INC.   Booth#2764
These recreations of the Manga inspired Five Star Stories run about $88.  Crafted with incredible detail, you can see imagination at work.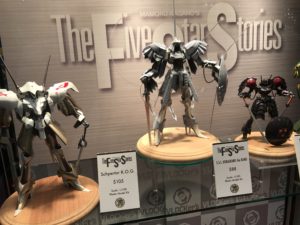 HIBERNACULA  Booth #2956
https://www.etsy.com/shop/Hibernacula
Talk about some wild and cool designs!  Shown below are TENTACLE TRINITY ($160) and then the CORVID SKULL ($68).  There are so many other interesting items which blend the bronze age of the Vikings with Witchcraft, Crystals…why there's even some Native American influence in some of the products.  There are tons of interesting eyeball necklace and pendants in the collection.  Well worth a look-see!
AMOKTIME   Booth#2805
Wow!  You like unique and interesting memorabilia?  Amoktime has seized upon a niche which any Comicon goer can find a gift for his or her fan of geekdom.  Where else are you going to find a collection of Monstarz items such as the Re-Animator Finger Prop Replica ($99)…..OR! a Talking Chucky Doll ($94)….why there's even the cute and cuddly flesh eating CRITTERS doll, perfect for the cabinet where you keep your cereal!  Seriously AMOKTIME anytime!
STYLIN ONLINE   BOOTHS 368, 1469, 2154, 2364, 3170
Stylin Online without a doubt has the greatest t-shirt presence year after year.  We picked up a great Batman T-shirt with original Adam West Era logo and another Marvel shirt featuring the Silver Surfer, Thing and others.  Great color combos and a 2 for $45 price tag on a quality tee.  They even gave us an enormous Star Trek Bag in which to carry our loot.  Where else can you find this quirky Tina t-shirt from Bob's Burgers…Year in year out awesome selection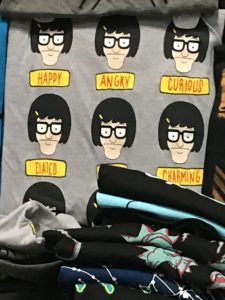 SPACELAB9   Booth#939
These guys are alright!  It's like taking the tie-dye shirt idea to vinyl!  So friggin cool are these discs and the collections of music they've managed to incorporate that you simply must visit their booth.  Every year we find something so creative that it tingles the spine.  Prices are reasonable too about $25-$30 or so.  If you have phonograph you have to chat with SpaceLab9.  If you don't, get one and then chat with SpaceLab9. No CD or electronic sound has ever been so much fun.
Creep Clown Masks
They're everywhere at Comicon!  Better get one now before they're made illegal!
The Elven Caravan    Booth #579
https://www.etsy.com/shop/TheElvenCaravan
If Elf Ears and Fairy Dust are your thing then you must visit the Elven Caravan.  The Elf gypsies there will outfit you with anyone of a myriad of sizes from $20 and up.  Look like an elf!  Look like a Vulcan….or maybe their close cousins the Romulans!  Great people….ahem Elves, and awesome customer service.  Stop in and tell them Thecomicloud sent you.
Jelly Belly Candy Company   Booth #455
Who doesn't love getting beanboozled?  A starter box of BeanBoozleds runs $6.  They have wheel of fortune there as well where you can spin to win or risk being BeanBoozled.  Not sure if they're for sale or part of some giveaway, but check out the incredible Batman and Wonder Woman Jelly bean art that they have there.  We watched while this artist worked on Wonder Woman.  Batman's Jelly Belly Painting is comprised of over 12,000 jelly beans!  Super Cool!